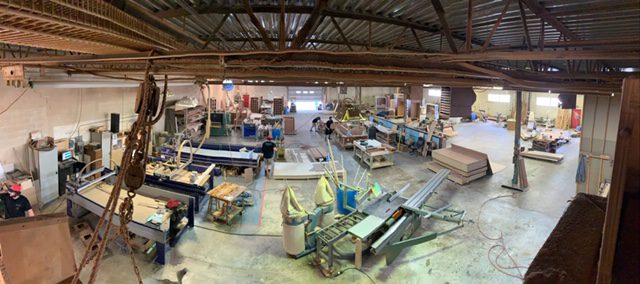 Newsham's Woodshop Inc., a family owned & operated business since 1983, is in a newly expanded 17,000 sq ft cabinet shop located in the Aldan Industrial Park, near the suburbs of Philly.
From manufacturing production pieces to designing and creating fine, custom cabinetry to laying out and fabricating proto-type wood parts, Newsham's Woodshop has built a reputation for delivering quality custom wood products to specification and within required tolerances. Equipment such as a 10 foot Sliding Table Saw, 3 Overhead CNC ( Computer Numerical Controlled) Routers with 5′ x 12′, 4′ x 8′ and 4′ x 8′ cutting areas, a 36″Automatic Feed Sander, and an Automatic Feed Planer etc., demonstrate the range of capability available to a variety of niche markets supported over the years.
Newsham's Woodshop has designed a line of Retail Display Cigar Humidors constructed with Mahogany & Solid Oak or Mahogany trim; glued, screwed and doweled to ensure solid construction; clear lacquer finish for furniture-like display; ventilated shelving to maximize air flow and Felt Wiper door Gasket plus rubber plugs to maintain proper humidity. Adjustable Spanish Cedar Racking, fluted molding and staining options can create a more decorative look. These cases can be seen in cigar shops, convenience stores, casinos, lounges, liquor stores, smoke shops and barbershops across the country in all 50 states including Alaska, Hawaii, Puerto Rico and Aruba.
Newsham's Woodshop offers full scale design services of new store fixtures, counter units, library shelving and custom humidors for specialty tobacco products or functional displays.
Another segment of the business includes manufacturing re-usable shipping and storage wood containers for large machinery or technical equipment and tooling using engineering drawings from aerospace, electronic and commercial industries.
CNC (Computer Numerical Controlled) Equipment has evolved into the new shop tool and is critical to industries using digital and computer generated CAD drawings for aerospace, architectural and proto-type applications. Now on our 3rd CNC router, Newsham's Woodshop incorporates various software programs to manipulate digital and CAD files into 2-D & 3-D wood, foam and acrylic parts for industrial, commercial and architecture firms throughout the region.
For more information regarding shop capabilities, assisting in your next project, or for quoting a custom piece, Contact Us at 610-622-5800 or email us at Info@Newshamswoodshop.com.